MIL-STD-1553 DATA BUS RELAY DEVICES
Product Announcement from North Hills Signal Processing Corporation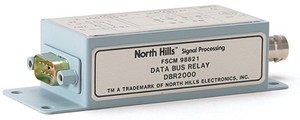 MIL-STD-1553 DATA BUS RELAY DEVICES
The DBR1000 and DBR2000 Series of bus switching relays are designed for use in the test and simulation of MIL-STD-1553 data buses. They are particularly useful in reconfiguring bus systems.
The DBR1000 and DBR1001 bus switches are double-pole single-throw (2P1T) relay devices which act as on-off bus switches to disconnect individual RT's or entire bus segments from a bus network without having to physically disconnect the cables.
The DBR2000 through DBR2006 bus switches are double-pole double-throw (2P2T) relay devices which can switch instrumentation or RT's from one bus or stub to another or reconfigure a bus. The DBR2004 has internal terminators while the DBR2005 and DBR2006 have exceptional isolation, useful in red/black or secure bus situations.
Features:
Up to 90 dB separation
2P1T or 2P2T
Benefits:
Ideal for test and simulation
No cable changing
Easy to use
*North Hills Application Note 257 - "MIL-STD-1553 Umbilical Separation" provides further information on the subject.
You have successfully added from to your part list.
---