Printed Circuit Board Video Field Tilt Corrector
Product Announcement from North Hills Signal Processing Corporation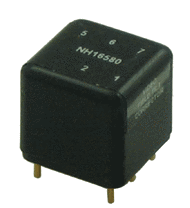 Printed Circuit Board Video Field Tilt Corrector
Blocking capacitors and inductive loads will limit the low-frequency response in a video transmission network. The result is field tilt that, if excessive, may ruin sync and picture quality. The field tilt at a cut-off frequency of 1Hz will be 5.1%, at
10Hz, 40.8%. A common cut-off frequency recommendation for video transmission is 5Hz (23% tilt).
The NH16580 Video Field Tilt Corrector will restore the original waveform with minimal residual tilt.
The input of the NH16580 is ac-coupled, and provides ac-coupled and DC-coupled outputs.
The DC-coupled output can be used with devices such as: televisions, flat-panel displays, DVD players, digital camcorders, digital still cameras, video-capable cell phones, portable video game consoles, PDAs and notebook computers.
Some video equipment requires ac-coupling on its input to protect the equipment from any short circuit to ground. The NH16580 provides this protection and the ac-coupled output can also be used if you need to remove the dc-biased output and set your own levels.
North Hills Application Note 153 - "Ground Isolation in Video Transmission"
Please click on the buttons at the top left of this page for more information or to contact us.
You have successfully added from to your part list.
---