Return Loss Measurement Bridge
Product Announcement from North Hills Signal Processing Corporation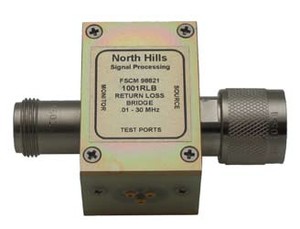 RLB Series - Return Loss Measurement Bridges for UTP and Balanced Systems
In communication circuits, maximum power transfer occurs when source and load impedance are matched. By relating it to a reference source impedance, the magnitude of a load impedance may, meaningfully, be expressed as "return loss."
North Hills Series RLB Return Loss Bridges interface with network analyzers to measure return loss of UTP cable and other balanced systems. There are models for balanced
reference impedances from 100 to 150 ohm for either 50 or 75 ohm network analyzers, covering frequency ranges from 10kHz to 300MHz.
There is also a companion RLC Series of Return Loss Bridges for 50, 75, and 93 ohm coax reference impedances and a RLT Series for twiaxial networks.

Application Note 155 explains the meaning of return loss and includes formulas and tables relating impedance, return loss, reflection factor and transmission losses. Application Note 157 is a tutorial on return loss bridges.
You have successfully added from to your part list.
---