APR-5000 XL/XLS Array Package Rework System
Product Announcement from Metcal / OK International, Inc.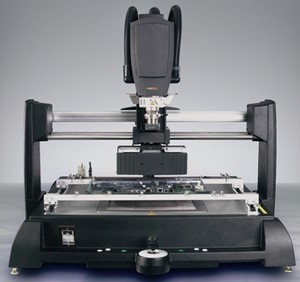 The Metcal APR-5000-XL/XLS Array Package Rework System provides large board capability with small board precision. This system performs precise, cost effective rework of the widest range of PCBs and component types, from large boards up to 24.5" x 24.5" (622mm x 622mm) to components down to 0.020" x 0.010" (0.51mm x 0.25mm).
The APR-5000 XL/XLS Array Package Rework System capabilities have been further enhanced by the recent release of new software that allows the simultaneous use of inner and outer preheaters enabling fast and easy profiling.
The total productivity of the unit has been measurably increased by reducing rework cycle time and protecting the component under rework from thermal damage. The new design permits a lower nozzle temperature to achieve the same required temperature at the solder joints or balls while reducing BGA lid temperatures, a significant source of failure by thermal damage. The APR-5000 XL/XLS improves its ability to manage the narrow lead-free process window without using excessive peak temperatures that may damage components, connectors, adjacent solder joints and the PCB substrate.
Motorized X, Y, Z adjustments speed placement and help ensure process repeatability. In addition, motorized Theta axis provides 360° rotation to simplify component orientation. Together, these advanced controls reduce operator fatigue, improve placement accuracy and provide process consistency.
Featured on the APR-5000-XLS Array Package Rework System is an innovative Split Vision System, which allows operators to view the opposite corners of a component, including splitting on rectangular components, with the necessary magnification to make its placement and registration fast and accurate.
---