Metcal BTX-208 Tip Fume Extraction Systems
Product Announcement from Metcal / OK International, Inc.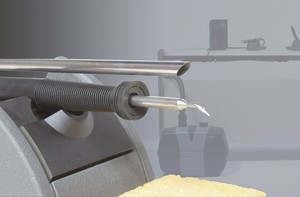 Precision and Power In Tip Extraction
Due to its powerful vacuum, Metcal's BTX-208 Fume Extraction System offers high performance extraction of solder fumes directly from the tip of any hand soldering iron and can be easily configured to form an extraction network for up to eight workstations.
The unit's pre-filter is followed by a main filter offering HEPA efficiency exceeding 99.97% and an activated carbon filter to remove gases. Both pre- and main- filters can be changed independently to maximize the working life of each filter and lower the total cost of ownership.
Measuring 508mm wide by 254mm deep by 388mm high and weighing just 9kg, the BTX-208 Fume Extraction System has been designed specifically for under-bench installation. With a universal power supply that accepts 100 to 240V at 50 or 60Hz, and with UL, CSA and CE certifications, the unit can be used anywhere in the world.
To complement the BTX-208 Fume Extraction System, OK International has developed a new plug-and-play ducting system, which offers a simple, flexible, low cost solution for faster configuration of tip extraction installations.
Portable for up to Eight Operators
The BTX-208 Fume Extraction System is a tip extraction unit with a high vacuum blower motor and a capacity for up to eight workstations. The unit's universal hose connection kit provides maximum flexibility and eliminates the need for a traditional layout and design of tip extraction ducting. The compact design and easy set-up make it truly portable.
Features and Benefits:
High performance extraction directly from the tip of any iron
Easy extraction network configuration for up to 8 benches
Complete portability. Designed for under-bench installation
Main filter has a HEPA efficiency of 99.97% at 0.3 micron, and an activated carbon filter to remove gases
Both pre- and main- filters can be changed independently
Plug-and-play ducting system for simple, flexible low cost solution and fast installations
Universal hose connection kit - universal power supply that accepts 100 to 240V at 50 or 60H
---