Metcal BVX-100 Series Fume Extraction Systems
Product Announcement from Metcal / OK International, Inc.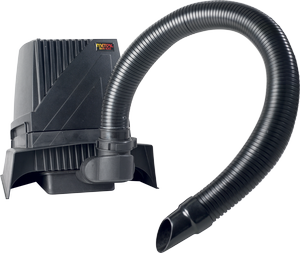 Metcal's BVX-100 Series Fume Extraction System is a bench-top single user system that is a powerful, low noise unit that needs no external ducting or compressor. Simply move this lightweight system from station to station, plug it in and switch it on for instant fume extraction. Just 279mm (11") tall, with a 305mm x 229mm (12" x 9") plenum chamber, the unit easily fits on any bench-top or, when space is at a premium, take advantage of the under-bench mounting bracket.
Rated at 85-Watts, the systems deliver high quality filtration without compromise. A powerful 85 m3/hr airflow rate provides immediate extraction of fumes, particles and vapors from operator breathing areas. When a larger capture range is needed, an innovative adaptor quickly transforms the plenum into an arm extraction system.
Two filtration configurations are available for heavy soldering and light dust applications, or light duty organic solvent and adhesive applications. A bi-colored LED light indicates when the filters are blocked and require replacing.
Features and Benefits:
Portable, single user fume extraction system
Low noise unit
No external ducting or compressor needed
Unit easily fits on any bench-top or under-bench
12" wide (300mm) plenum
Innovative adaptor transforms the plenum into an arm
Powerful 85m3/hr-airflow rate
Immediate extraction of fumes, particles and vapors
Two filtration configurations: heavy soldering and light dust or light duty organic solvent and adhesive applications
Bi-coloured LED light indicates when the filters are blocked and require replacing
Part Number Description
BVX-101 Bench-top Single User System, Pre-HEPA-Gas
BVX-103 Bench-top Single User System, Pre-Gas
Product Comprises of :
Power Unit
Set of filters
BVX-ADT arm to plenum adaptor
BVX Arm (760mm, 29.50")
---