HCT-1000 Programmable Hand Held Convection Tool
Product Announcement from Metcal / OK International, Inc.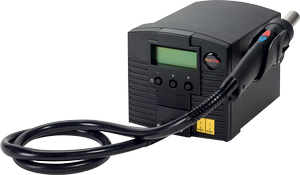 The Metcal HCT-1000 System is a fully programmable hand held convection rework tool that can both remove and place SMT components. It features digital controls, internal or external thermocouple feedback control, profile storage and integrated vacuum pick-up for component placement and removal.
Additionally, with multiple modes of operation including manual, 4 zone heating, and as part of the MRS-1100A System, the HCT-1000 stands out as a versatile convection tool.
The hand-piece features vacuum and reflow buttons allowing the process to be operated manually or automatically through a profile when used as part of the Modular Rework System (MRS). Additionally, the vacuum has automatic lift off of components, at the end of the removal profile, taking guesswork out of the operators' hands and improving process control.
As part of the MRS System, the HCT-1000 is connected via a cable to the PCT-1000, and may be used with ATH-1100A Adjustable Tool Holder. In this mode the HCT-1000 provides timing control for both units and the ATH-1100A allows repeatable place and remove operations.
---