Metcal HCT-900 Hand Held Convection Tool
Product Announcement from Metcal / OK International, Inc.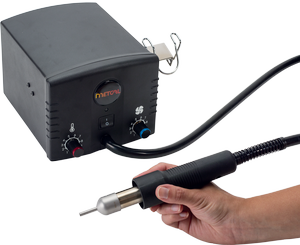 The HCT-900 Hand Held Convection Tool offers a low cost, versatile rework solution for a wide variety of production and rework application challenges. It has a compact, robust design comprising of analog controls for both airflow and heat. A closed loop feedback circuit controls the temperature allowing the desired temperature to be achieved and maintained regardless of changes in the volume of airflow.
The HCT-900 can be used for the removal and replacement of electronic components, including lead-free, from 0201 up to 304 pin QFP. It is also effective at reworking pin in-hole devices such as sockets and connectors. And, using it with solder braid and flux is a fast and efficient way to remove solder shorts and splashes. It can also be used in plastic applications such as applying shrink wrap to components or the formation of plastic rivets.
The unique low noise air pump (less than 45 db) provides precise airflow control for the most demanding applications. The "power off" cool down function retains airflow through the hand piece while the unit powers down, providing efficient heater cooling and reducing thermal stress.
The HCT-900 is fully ESD compliant.
Features and Benefits:
Versatile hot air tool for soldering and desoldering applications
Robust and compact design
Analog controls for both airflow and heat
Closed loop feedback circuit controls the temperature
Unique low noise air pump (less than 45 db) provides precise airflow control
Fully ESD compliant
Part Number Description
HCT-900-11 Hot Air Convection Tool, 115V
HCT-900-21 Hot Air Convection Tool, 230V
Product Comprises of:
Hand-held convection tool
Handle
---