Product Announcement from Metcal / OK International, Inc.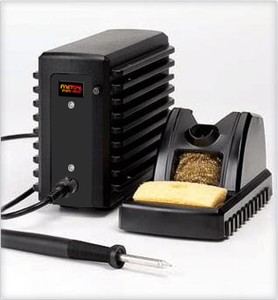 This system will allow users of the Metcal SP200 Soldering System to continue to use their Metcal SSC cartridges.
Key Features & Benefits:
SmartHeat® Technology provides exceptional power for high thermal demand applications
High power output at a fixed temperature provides high throughput with excellent yields
MFR-H6-SSC hand-piece has a comprehensive range of Metcal SSC cartridges for maximum flexibility
Hand-pieces are ergonomic for operator safety and comfort
Part No. Description
MFR-1160 Single output, one cartridge soldering hand-piece, workstand
System Components
MFR-H6-SSC Hand-piece, Metcal SSC Soldering Cartridge
MFR-PS1100 Power Supply, Single Output
WS2 Auto Sleep Workstand
Contents subject to change without notice
System does not include any tips or cartridges
Metcal SSC Solder Tip Cartridges
METCAL SSC SOLDER TIP CARTRIDGES
500 Series X=5, 600 Series X=6, 700 Series X=7
SSC-X17A
Extra Large Chisel
.21˜ (5.3mm)
SSC-X13A
Chisel 90°
.13˜ (3.3mm)
SSC-X36A
Chisel 30°
.10˜ (2.5mm
SSC-X42A
Long Reach Chisel 60°
.07˜ (1.78mm)
SSC-X70A
Long Chisel
.07˜ (1.78mm)
SSC-X37A
Chisel 30°
.07˜ (1.78mm)
SSC-X38A
Chisel 30°
.06˜ (1.5mm)
SSC-X25A
Chisel 30°
.04˜ (1.0mm)
SSC-X74A
Conical Sharp
.055˜ (1.4mm)
SSC-X01A
Conical Sharp
.04˜ (1.0mm)
SSC-X22A
Conical Sharp
.02˜ (0.51mm)
SSC-X72A
Conical Chisel
.07˜ (1.78mm)
SSC-X71A
Conical Chisel
.04˜ (1.0mm)
SSC-X54A
Sharp Bent 30°
.02˜ (0.51mm)
SSC-X26A
Sharp Bent 30°
.02˜ (0.51mm)
SSC-X47A
Bevel 60°
.07˜ (1.78mm)
SSC-X45A
Bevel 60°
.016˜ (0.4mm)
SSC-X67A
Drag Soldering Tip
(Mini-Hoof)
SSC-X61A
Drag Soldering Tip
(Knife)
SSC-X39A
Drag Soldering Tip
(Hoof)
SSC-X73A
Drag Soldering Tip
(Increased Tinned
Area, .24˜ 6.1mm)
You have successfully added from to your part list.
---