Metcal MFR-1300 Desoldering System
Product Announcement from Metcal / OK International, Inc.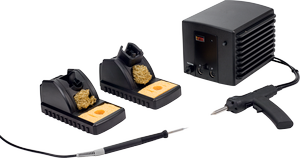 The MFR-1300 Series Desoldering and Rework Systems are the next generation of standalone desoldering equipment from Metcal.
The new power supply features an internal pump providing 21" Hg of vacuum suction force combined with Smartheat® technology that makes through-hole desoldering easy and keeps your products safe from board damage.
The new hand-piece has been designed to be used in two configurations. The MFR-H5-DS can be used as a pencil or as a a pistol style by simply adding a clip on grip supplied with the hand-piece.
Solder collection capabilities have been increased by 40% from previous MFR desolder systems and the innovative replaceable collection chamber enables reduced downtime and quicker changeover.
Key Features
Self-contained powerful pump
2 in 1 ergonomic and flexible hand-piece: pencil or pistol
Collection chamber with 40% increased capacity*
Innovative collection chamber for quick and easy change
Dual switchable output
Powered by Smartheat® Technology
Compatible with previous MFR Desolder range
* compared to the previous MFR-HDS Desolder Hand-piece
SYSTEM CONFIGURATIONS
Part No Description
MFR-1350 Dual Switchable Output Desolder System with Internal Pump
MFR-1351 Dual Switchable Output Solder / Desolder System with Internal Pump
SYSTEM COMPONENTS
Part No. Description
MFR-PS1300 Switched Dual Output Power Supply with Internal Pump
MFR-H5-DS Desolder Hand-piece, with selectable grip, and cord
MFR-H1-SC2 Solder Cartridge Hand-piece, with cord
MFR-WSDSU Universal Workstand for Desolder Hand-piece
WS1 Universal Workstand for Solder Hand-piece
ACCESSORIES
Part No. Description
MFR-DC10 Disposable Collection Chamber for MFR-H5-DS (pack of 10)
MFR-DC100 Disposable Collection Chamber for MFR-H5-DS (pack of 100)
MFR-PG Replacement Pistol grip for MFR-H5-DS Hand-piece
MFR-HDCA Coil assembly for MFR Desolder Hand-piece - Replaceable consumable part
MFR-WSDSCB Desolder workstand cradle
MFR-H5-DS-C Desolder hand-piece and universal cradle assembly
AC-SK1 Seal Kit Collection Chamber (pack of 2)
AC-VP Vacuum Port
AC-VL ESD Air Hose
AC-TC-P Desoldering Tip Cleaner (pack of 12)
AC-Y10 Yellow sponge for Workstands (pack of 10)
AC-BP Brass pad for Workstands (pack of 10)
AC-VPF Vacuum Port Filter (pack of 5)
CARTRIDGES
Hand-piece Cartridges
MFR-H5-DS DxP Series Desoldering Cartridges
MFR-H1-SC2 SxP and RxP Series Soldering and Rework Cartridges
TECHNICAL SPECIFICATIONS
MFR-1350/51
Input Line Voltage: 100-240 VAC
Input Line Frequency: 50/60Hz
Power Consumption: 110 Watts max. (Power Supply MFR-PS1300)
Output Power: 60 Watts Max (RF SmartHeat® Power)
Output Frequency: 450 KHz
Idle Tip temperature stability: +/- 34°F (1.1°C) in still air
Ambient Operating Temperature: 50 - 104°F (10 - 40°C)
Maximum Enclosure Temperature: 131°F (55°C)
Noise level: < 55 dB
Vacuum suction force: 21" Hg at Vacuum pump at sea level (0.7 bar)
Power Cord (3-wire): 72" (183cm)
Desolder Hand-piece cable length: 60" (152 cm), burn proof, ESD safe
Solder Hand-piece cable length: 48" (122 cm), burn proof, ESD safe
Hand piece connector: 8 pin power connector
Tip to ground Potential: <2mV
Tip to ground resistance: <2 Ohms
Surface Resistivity: 105 - 109 Ohms
Approvals: cTUVus, CE
Dimensions (approx.) W x D x H: 7" x 8" x 6" (170mm x 200mm x 152.5mm)
Workstand dimensions: 4" x 8" x 4" (100mm x 200mm x 100mm)
You have successfully added from to your part list.
---