MX-5200 Dual Simultaneous Soldering Rework System
Product Announcement from Metcal / OK International, Inc.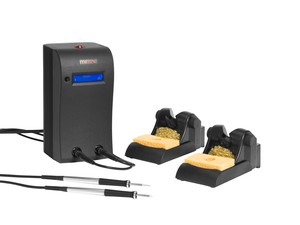 The MX-5200 Series Dual Simultaneous Soldering, Desoldering and Rework Systems offer the same increased productivity and process control as the MX-5000 series, now with dual simultaneous ports.
More power. With nearly double the power of its predecessor, the MX-5200 time to recovery increases production rates and throughput.
Improved ergonomics. The Metcal Advanced™ Hand-piece for soldering and rework is carefully designed to decrease operator fatigue and enhance the operator manual dexterity resulting in productivity gains.
Greater process control. SmartHeat® Technology in every MX-5200 means that soldering and rework are always performed at safe, controlled temperatures. Metcal users know that moderate fixed temperatures, where power is varied, provide the best assurance for a well controlled soldering and rework process.
The new MX-5200 Series provides users with a wide range of choices to address conduction soldering and rework processes. At the core of each system is a microprocessor controlled power supply that provides more power, the highest level of precision and advanced user features for greater process control.
Power Supply: Process Feedback and Power
The MX-5200 has a built-in power indication meter with digital display and bar graph that dynamically provides the operator with feedback on the status of the soldering operation. Whether using a large mass rework tip for QFPs or a fine-point soldering tip, the power indication meter is a valuable resource for making consistent, acceptable solder joints.
Features and Benefits:
Can now be operated with two hand-pieces at the same time
Improved ergonomics with lightweight hand-pieces
Greater process control with Smartheat® Technology
More power for challenges such as high mass components, multi-layered boards and lead-free solders
ESD safe with incoming AC ground monitoring circuitry
Built-in power indication meter provides the operator with feedback on the status of the soldering operation
Metcal TipSaver™ Workstand improves tip life with its "auto sleep" function
---