Scorpion Advanced Package Rework System
Product Announcement from Metcal / OK International, Inc.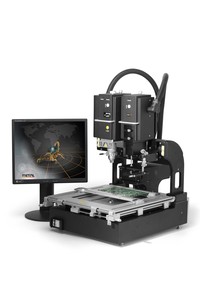 The challenges of array package rework, and the inability to easily inspect placement accuracy, call for a solution that allows for simultaneous viewing of Printed Circuit Board pads and component balls for accurate placement.
The Scorpion Rework System fills this need with quick, accurate placement through the use of an all new vision system employing dual image overlay technology. This new vision system features LED lighting both top and bottom for shadow-free component visualization and component alignment. The HD camera is ready to go out of the box.
The two-head modular design allows the Scorpion Rework System to be tailored to the users specific rework needs and allows precision alignment of the smallest BGAs, QFNs and Micro SMDs with the highest accuracy. The open-ended board holder fits a wide variety of large, small and odd-shaped boards while allowing precise positioning over the patented dual subzone preheater.
The standard auto-profile mode ensures fast and easy profile creation with a minimum of setup time. By selecting your temperature targets any operator can quickly and accurately create reflow profiles for a wide variety of boards, and then save them in memory for future use.
Source temperatures and time intervals can be modified "On-the-Fly", eliminating the need to wait for the current profile to terminate before modifications can be made. Precise solder joint temperatures are measured and displayed on a real time graphical display, thus providing the necessary data to accurately and easily establish the optimum reflow profile for each particular application within minutes.
The modular design of the Scorpion Rework System allows it to be configured to the users specific needs. The two-head system with precision placement package features placement accuracy to 0.0015" (.038mm). The standard single-head system provides placement accuracy to 0.004" (.1mm).
The Scorpion system accepts the full range of APR and QX series reflow nozzles. Flux transfer plates and solder paste plates are available to ensure repeatable process control during the replacement operation.
SYSTEMS
APR-1100-SRS Scorpion Rework System with Single Reflow Head
APR-1200-SRS Scorpion Rework System with Reflow Head and Precision Placement Head
---