Product Announcement from OK International, Inc.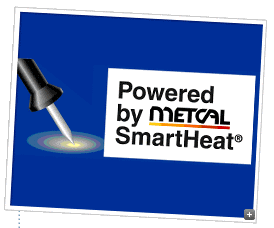 Savvy electronic production engineers define success by how they maximize their productivity, yield, and product reliability. All of these factors depend directly upon process control. To achieve success, OK International has developed SmartHeat® conduction soldering systems which uniquely sense the exact thermal requirement for each solder joint and respond by delivering the precise amount of thermal energy at the rate required to create a reliable connection.
The result is a high degree of control without resorting to higher tip idle temperatures required by conventional ceramic heater technologies. Consequently the risk of component / board damage is minimized, especially important with the greater thermal demands required by lead-free applications.
As you'll see below, SmartHeat® provides unique benefits in the delivery of high reliability low risk conduction soldering solutions, especially with lead-free alloys. All of these add up to provide a highly consistent level of process control.
SmartHeat® Delivers Direct Power
First and foremost, the success of conduction soldering depends upon the availability and controlled flow of thermal energy into the connection during the two critical phases - flux activation and intermetallic bond formation. Lead-free alloys, with higher thermal demands, further heighten these requirements. Conventional ceramic heaters attempt to control this process by managing indirect parameters, such as the tip idle temperature. In contrast, SmartHeat® technology senses the specific thermal demand directly at the solder pad and delivers the precise quantity and flow of thermal energy during both phases to ensure a reliable connection.
Stored Thermal Energy Transfer
You have successfully added from to your part list.

Play Smart Heat Video
---