OPW Loading Systems
Product Announcement from OPW Engineered Systems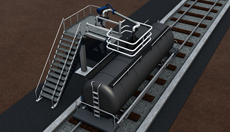 OPW Engineered Systems offers the most complete line of loading arms and loading rack equipment available to meet today's bulk loading and unloading requirements. Whether your application involves Tank Trucks, Rail Cars, Drums or Totes, we can work with you to develop the right equipment for your application. Whether you are moving petroleum products, liquefied gases, asphalt, solvents, or hazardous, corrosive chemicals, OPW Engineered Systems is the preferred Loading System of choice worldwide.
Unmatched Heritage - since 1892 (120 years of success); OPW has been here to serve your loading systems needs longer than any other
Unparalleled Product Reliability - product and process quality excellence is an integral part of our commitment to customers which is why OPW products have the highest reliability rating and has been the mosted trusted loading system in the world for more than a century.
Unbeatable Customer Care - Our sales, technical and customer service support specialists are focused on making sure every customer experience is the best it can be. With more than 200 years of combined experience among our sales and support team, our knowledge and experience in helping customers in unrivaled in the industry
Unrivaled Resources & Capabilities - most extensive sales, distribution and global presence in the industry - we're where you are and can support your needs unlike any other; part of Dover Corporation - an $8 billion dollar global industrial leader focused on delivering highly-valued solutions to customers worldwide
Made in America

For more information:
OPW Loading Systems
You have successfully added from to your part list.
---