ET?™ LED Characterization System
Product Announcement from ORB Optronix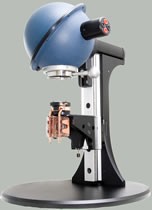 Features
Complete Electrical-Thermal-Optical Data
Automated Data Acquisition and Analysis
Highly Accurate LED Spectral Measurements
TEC Temperature Control and Monitoring
DC and PWM Power Supply Control
Vf and If 4-Wire Measurement
Orb Optronix released the first electro-thermal-optical characterization system in the world to allow fully automated spectral characterization of light emitting diodes (LEDs). The new ETΦ systems (also known as ETO) from Orb Optronix measure the spectral light output of light emitting diodes while precisely controlling electrical and thermal parameters.
In order to design systems that utilize high power LEDs, the light output characteristics (color and flux) must be known as a function of temperature and electrical input characteristics. ETO makes this fast in easy. Just load a high power LED or LED array, input test parameters ranges, hit start, and in less than an hour, you have all the data necessary to make fundamental design decisions regarding LED selection, thermal management, luminous efficacy, and more.
ETO LED Characterization System Configurations:
for discrete LED characterization to high-powered LED arrays
6" Pedestal System for discrete LED Characterization

Air Cooled 100cm2 platform for high-powered LEDs and LED array characterization

Liquid Cooled 100cm2 platform for high-powered LEDs and LED array characterization
ETO LED Characterization System Configurations
Thermal Platform Operating Range
Supported Source Meters
SpectralSuite™ Software Capabilities:
Complete test sequencing for automated control of current, temperature and spectral measurements. Complete data analysis capabilities for automatic graph generation.
Screen Shots
Applications
Design & Development of Products Using LEDs
LED Selection
LED Qualification
LED Characterization
LED Benchmark Analysis
LED Thermal Engineering
LED Optical Engineering
LED Electrical Engineering
Highly Accurate LED Measurements
LED QA/ QC
LED Manufacturers and Distributors
LED Research and Development
LED Design
Specification Sheet Data
Application Engineering Data
Customer Support
Specifications
Array Resolution 1024 pixel (SP-50-VIS and SP-50-UV)

2048 pixel (SP-50-NIR)
Spectral Range 380 to 780nm (SP-50-VIS)

250 to 500nm (SP-50-UV)

360 to 1000nm (SP-50-NIR)
Optical Bandwidth 4.1 nm (SP-50-VIS and SP-50-UV)

1.5 nm (SP-50-NIR)
Wavelength Binning Resolution 1 nm
Dynamic Range Resolution 14 bit
Optical Input SMA Fiber Connector
Typical Flux Measurement Range 1 Lm to 100000 Lm
Wavelength Accuracy ± 0.5 nm
Wavelength Repeatability ± 0.2 nm
Stray Light < 10-3
Chromaticity Accuracy (x,y) ± 0.002
Chromaticity Repeatability (x,y) ± 0.0005
CCT Reproducibility ± 20°K (Illuminant A)
Integration Time Range 5 to 5,000 ms
ETO-06-01 Pedestal Dimensions HxWxL 42.54cm x 32.38cm x 37.15cm
Instrument Case Dimensions HxWxL 19.00cm x 53.34cm x 54.61cm
ETO-06-01 Pedestal Weight ~9.9 kg
Instrument Case Weight ~15.4 kg
Operating Environment 10°C to 40°C and < 85% relative humidity
Interface USB 2.0
Power Supply Choice of Keithley™ 2400 Series Models
Voltage Monitor 4-Wire
Thermal Control Range 0°C to 100°C, 2W to 50W
Additional options available (contact sales)
Thermal Control Repeatability +/- 0.5°C
Thermal Set-Point Resolution 0.1°C
Interface USB 2.0 Connectivity
For quotation or to request more information please call 425.605.8500
or email sales@orboptronix.com copyright © Orb Optronix 2010
You have successfully added from to your part list.
---