OSG Introduces New Drilling Catalog
Product Announcement from OSG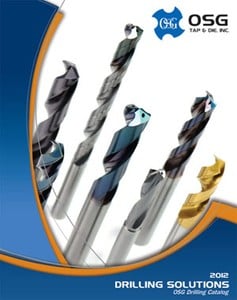 OSG is proud to introduce a new product catalog dedicated solely to drilling. In addition to OSG's ultra-premium carbide and high speed drill lines, the 2012 Drilling Solutions Catalog also includes newly released products such as:
The brand-new EXOPRO®-WHO-Ni 3D & 5D carbide drills, the new industrial solutions for nickel alloys materials (40-55 HRC)

The EXOCARB®-WD 2D & 4D, the next generation high performance carbide drill series
The newly expanded EXOCARB®-WDO coolant-through carbide drill series, a comprehensive product lineup for every drilling application.
These premium tools feature exclusive metallurgy, cutting geometries and proprietary surface treatments to help increase productivity, reliability and tool life while reducing machining time and scrap.
---