Product Announcement from OSI Optoelectronics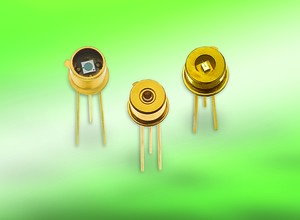 The APD Series 8-150, a new family of silicon avalanche photodiodes optimized for operation in the 800 nm wavelength region.
Available in hermetically-sealed metal packages, the devices offer lower noise and high sensitivity over high bandwidths up to 1 GHz. The new APD models feature 0.2, 0.5, 1.0, and/or 1.5 mm (diam.) active areas and exhibit low temperature coefficients of 0.45/V degrees C, making them ideal for optical fiber communication, laser range finder, and high-speed photometry applications.
Storage temperature for the new devices is from minus 55 degrees to 125 degrees C, with an operating temperature range from minus 40 degrees C to 100 degrees C, maximum. For more information about OSI's new silicon avalanche photodiode Series 8-150 series, please visit: www.osioptoelectronics.com/standard-products/new-products.aspx .
OSI Optoelectronics, Inc. (Hawthorne, California - www.osioptoelectronics.com), a division of OSI Systems, is the global leader in design and manufacture of high performance standard, custom, and OEM silicon and InGaAs photodiodes. For over 40 years, we have developed and manufactured OEM and custom solutions for leading technologies and industries. We provide advanced optoelectronic components and sub-assemblies for aerospace and defense, security, inspection systems, medical, communications, and industrial automation applications.
You have successfully added from to your part list.
---