Product Announcement from OSI Optoelectronics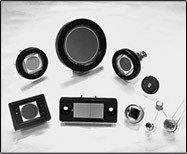 The Photovoltaic Detector series is utilized for applications requiring high sensitivity and moderate response speeds, with an additional sensitivity in the visible-blue region for the blue enhanced series. The spectral response ranges from 350 to 1100 nm, making the regular photovoltaic devices ideal for visible and near IR applications. For additional sensitivity in the 350 to 550 nm region, the blue enhanced devices are more suitable.

These detectors have high shunt resitance and low noise, and exhibit long term stability. Unbiased operation of these detectors offers stability under wide temperature variations in DC or low speed applications. For high light levels ( greater than 10mW/cm2), the Photoconductive Series detectors should be considered for better linearity.
These detectors are not designed to be reverse biased! Very slight inprovement in response time may be obtained with a slight bias. Applying a reverse bias of more than a few volts (>3V) will permanently damage the detectors. If faster response times are required, The Photoconductive Series should be considered.

Refer to the Photovoltaic Mode (PV) paragraph in the "Photodiode Characteristics" section of this catalog for detailed information on electronics set up.
Features
High Speed Response
Low Capacitance
Low Dark Current
Wide Dynamic Range
High Responsivity
Applications
Pulse Detectors
Optical Communications
Bar Code Readers
Optical Remote Control
Medical Equipment
High Speed Photometry
You have successfully added from to your part list.
---