30 Ton Chain Hoist
Product Announcement from OZ Lifting Products LLC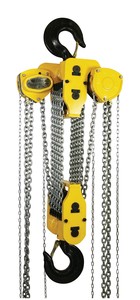 The OZ 30 Ton Chain Hoist with STANDARD OVERLOAD PROTECTION has all the features of our smaller hoists and IS IN STOCK in our Whse located in Winona Mn, along with 10 ,and 20 ton hoists as well. OVERLOAD PROTECTION takes the worry out of "what weight am I lifting" and protects the user and the load being lifted from injury or damage. With insurance rates rising and injuries becoming costly, safety minded companies are finding the OZ Hoist to be a real cost saving investment. With the overload activated at 30 to 50% over the rated load there is ample room for hoist capacity and above,factor in that the hoist is designed so that the hooks begin to progressively open at 3 times the working load limit, and you have an extremely safe,long lasting hoist, a safe and sound investment.
Price reduction to move old inventory.
For more information, click here to request a quote or send us an email.
If you are interested in distributing OZ Lifting products please contact Dan at:
dan@ozliftingproducts.com
507-457-3346
We Protect our distributors!
Watch this YouTube video of what can happen without overload protection: blue lever hoist accident
---