OZ Lifting seeking distributors
Product Announcement from OZ Lifting Products LLC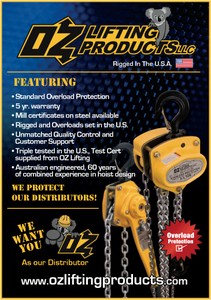 Our company is growing as fast as we expected and were getting calls from distributors at a fast pace. At OZ Lifting our policy is to protect our distributors by not setting up their local competitors and start a bidding war that no one wins. Does it cost us some business? The answer is yes, but we have found our distributors appreciate the change from "business as usual" and the partnership we form in doing it our way. We have aslo added some "Made in the USA" products to our inventory,including a new composite Davit Crane,,first in the Industry.
Five years ago as a young company we refrained from going after distributors aggressively because we didn't want to outgrow our capacity to deliver. We have now moved into a 15,000 sq ft building and are ready to grow, if your interested in selling one of the safest, well built, affordable hoists in the industry and get in on the ground floor, visit our website at:
www.ozliftingproducts.com and do your research.
If your interested you can email me at:
dan@ozliftingproducts.com
or call me direct at 507-457-3346 for more information

Play OZ Lifting seeking distributors Video
---