OZ lifting Products Trolley's and Clamps
Product Announcement from OZ Lifting Products LLC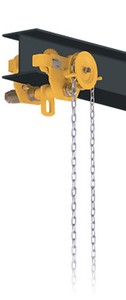 OZ Lifting Products carries a variety of Clamps and Trolley's to fit your lifting needs,safety and durability, a trademark of all OZ Lifting Products.
Our Beam Clamp (OZBC) 1 ton through 10 ton is designed for super quick adjustment to most I beams,it is fitted with an adjustable screw mandrel for fast and easy opening, definately a plus for the on the move user.
The OZ Beam Trolley with Clamp (OZBTC) has a combination of super quick adjustment with a safety lock and precision ball bearing trolley wheels for a smooth transition across the beam,this Clamp is very popular in the mines and shipyards. 1 ton to 5 ton available
Next is our Push Beam Trolley (OZPBT) from.5 ton to 10 ton, this heavy duty trolley has a sturdy shaft and hook along with ball bearing trolley wheels for easy movement along the beam, a well built trolley as are all OZ trolley's an clamps.
Last is The OZ Geared Beam Trolley (OZGBT) ,this trolley gives the user the ability to slowly transition the load where precision and accuracy are needed on a technical move or the speed to quickly and safely move a heavy or light load anywhere on the beam.
All OZ Clamps and Trolley's are lightweight and robust and are baked with a durable enamel paint for optimum protection,they are all superbly engineered for safety and durability,a good fit for the OZ Hoists with STANDARD OVERLOAD PROTECTION. Got Safety?
For more information, click here to request a quote or send us an email.
If you are interested in distributing OZ Lifting products please contact Dan at:
dan@ozliftingproducts.com
507-457-3346
We Protect our distributors!
---