Product Announcement from Oak-Mitsui, Inc.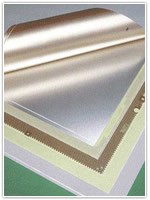 Aluminum Bonded Copper or "ABC" represents a quality alternative to copper/aluminum lamination separator plates. Continuous process ultrasonic welding performed in a clean room environment is the basis surrounding ABC's product technology. Critical metal surfaces are cleaned then bonded without the use of an adhesive which could interfere with the subsequent outer layer processing of the multilayer. In short, use of ABC instead of the conventional component lay-up / wiping technique ensures a process-ready fine-line circuit board surface.
The benefits include:
Labor reductions / time savings in lay-up of 30% - 60%.
Less material handling / fewer PNs / fewer handling defects / reduced scrap.
Higher first pass yields, especially on fine-line circuitry.
Technical support from the industries' leaders in Copper Foil / Aluminum Press separator plate technology.
ABC provides the vehicle for ultrathin copper foil handling.
Exciting new copper foil technology such as 9 and 12 micron, "AT" treatments and high temperature MHT coupled with specifically selected hardened aluminum alloys available in various thicknesses result in product configurations that are now becoming industry standard.
With industry demand continuing to escalate for Aluminum Bonded Copper, added production capacity/flexibility of supply is rapidly taking shape. Multiple process lines, enhanced welding technology, expanded tooling capabilities and improved distribution channels are directly targeted at reduced lead times/immediate product availability. Remember it's all "About Better Circuitry".
ABC Layup Configuration
ABC requires only 11 components. (10 Board book)
ABC requires no wiping, reducing layup labor by 30-60%, and reducing the need for tack cloth.
ABC can be built with copper thickness down to ¼ oz (9 microns).
No loss of copper foil due to handling-related problems. No wrinkling associated with handling. Copper and aluminum handled in one easy unit.
Risk of critical surface contamination virtually eliminated with ABC.
You have successfully added from to your part list.
---