Polymer Substrate Capacitor Plane for PCB Design
Product Announcement from Oak-Mitsui, Inc.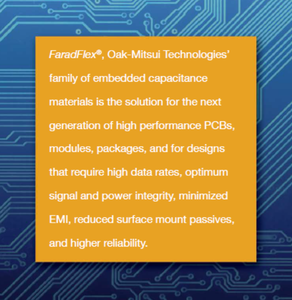 Free up PCB real estate and reduce overall impedance of the power distribution system with FARADFLEX®, Oak- Mitsui's revolutionary ultra thin Polymer film substrate capacitor plane for PCB fabrication. Oak-Mitsui's licenced Buried Capacitance™ technology eliminates the need for some discrete capacitors.
It is the reduced inductance that is the key performance factor in reducing impedance as system frequencies increase
Fiberglass reinforced epoxy material had been the standard product used to embed these layers in PCBs. These types of substrates have improved the performance of many systems. However, as switching speeds increase, there is a need for even lower impedance / ground planes..
To meet this need, Oak Mitsui Technologies has developed the FARADFLEX® family of novel thin substrates , that is the next generation of BURIED CAPACITANCE™ licensed material.
FARADFLEX® is the premier licensed polymer film based substrate that can be used when enhanced performance is required over traditional materials. FARADFLEX® provides higher capacitance values and ultra-thin dielectric layer, allowing for significantly lower power / ground plane impedance.
Buried Capacitance™ is a Trademark of HSCI
You have successfully added from to your part list.
---