OS4000-T Nano Compass
Product Announcement from OceanServer Technology, Inc.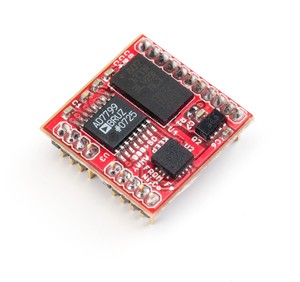 The OS4000-T is a nano size (0.6" x 0.6") three-axis, tilt compensated digital compass. The compass is connected via TTL only. The OS4000-T provides precise heading, roll and pitch data ideal for rapid attitude measurement. The OS4000-T offers an easy to use ASCII interface which includes hard and soft iron compensation and simple data configuration for your application.
Important note: the OS4000-T is a through hole package intended for volume applications where it will be mounted directly on a user's system board. First time users should purchase the evaluation kit which includes the OS4000-M Translator/Carrier Board (includes connectors for USB or RS-232). The -M board is offered in the OS4000-T evaluation kits so users have a quick reference on how to hook up the module and create the holes in the user design to mount the OS4000-T. The OS4000-M is only for initial development and debug. The evaluation kit includes a user CD with the schematics and layout in the Eagle format.
Visit OceanServer's main website to download user guide and software tools: www.ocean-server.com/download.html
> Ultra Low Cost Design
> Nano size, 0.6"x 0.6"; weighs 1 grams
> Precision compass accuracy, 0.5 deg RMS Level Heading*, 1° Typical RMS accuracy < ± 30°, 1.5° < ±60°, .1 Degree Resolution
> Roll & Pitch full rotation
> Typical 1° accuracy < ± 30° tilt
> Tilt-compensated (electronically gimbaled)
> Low power consumption, <30ma @3.3V
> Hard and soft-iron compensation routines
> Serial Interface: TTL
> 50 MIPS processor supporting IEEE floating point math
> Baud rate programmable: 4,800 to 115,000 baud
> Rugged design (10,000 G shock survival)
> Operating temperature: -40C to 80C (Specified accuracy 0C to 50C**)
> ASCII sentence output in several formats; NMEA checksum
> Data update rate up to 40HZ
> Support for True or Magnetic North output
> Precision components:
3 Axis magnetic sensors from Honeywell,
3 Axis accelerometers from ST Microelectronics,
24 bit differential Analog to Digital converters from Analog Devices
*Accuracy with a clean calibration in area with no magnetic distortion, local distortions can have large effects on accuracy ** Temperature Stability: < 1 Degree drift over 15C delta T (typical)). May require a user temperature calibration in system
You have successfully added from to your part list.
---