DRYVAC Dry-Compression Vacuum Pumps
Product Announcement from Oerlikon Leybold Vacuum USA Inc.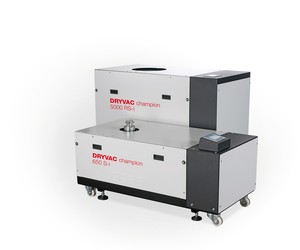 Export, PA - March 1,2013 - Oerlikon Leybold Vacuum recently announced the expansion of the industrial dry-compressing screw-type vacuum pump line called DRYVAC®. New DRYVAC models include the DV450 rated for nominal pumping speed of 265 CFM and the DV1200 rated for nominal pumping speed of 736 CFM. DV450 and DV1200 complement the existing DV650 and DV5000 models. DRYVAC has evolved from one design platform. Multiple pumping system combinations are also possible for gaining increased pumping speeds and vacuum levels by incorporating the RUVAC® WH line of vacuum boosters. Both DRYVAC and the RUVAC WH offer improvements in leak tightness, energy efficiency and physical stature over competitive brands.
The DRYVAC Difference
DRYVAC series dry-compression vacuum pumps have been designed to meet the special needs of applications in the Photovoltaic production chain, Industrial Coatings and other Process Industry applications such as Heat Treatments, Metallurgy and general degassing. DRYVAC pumps are rugged, reliable and ready to fulfill demanding vacuum requirements where high vacuum, fast cycle times, energy efficiency, improved leak –tightness all in a space-saving design are required. Single pumps can achieve 7.5 x 10-3 torr vacuum and over 2,900 cfm nominal displacement. Enhanced performance is possible through use of a RUVAC booster stage.
The DRYVAC line is an environmentally friendly alternative to traditional oil-sealed rotary piston and vane pump style vacuum pumps. With no lubricating oils contained in the pumps' compression stage, DRYVAC offers an improved operating environment with no oil emissions, reduced maintenance, with less down-time and disposal steps resulting in lower operating costs for our customers.
DRYVAC pumps feature an integrated frequency converter that allows for a wide operating voltage and frequency drive with no need for motor protection switches. The DRYVAC S-i version includes the external pump housing, castors, integrated frequency converter, and an on-board PLC with touch screen. The PLC allows for control and monitoring via intuitive menu navigation software and field bus. Standard and optional integrated gas ballast and purge gas modules are also available on all DRYVAC models.
Other DRYVAC features include a hermetically sealed motor design without external shaft seals and motor bearings, water cooling, low power consumption, compact footprint, low noise level and UL listed materials.
The DRYVAC in Action
Typical vacuum applications for DRYVAC include Annealing, Brazing and Sintering in Heat Treating; Steel Degassing, Induction Melting and Vacuum Arc Re-melting in Metallurgy, Coating and Deposition processes as well as numerous other industrial applications.
DRYVAC along with appropriately selected vacuum boosters, turbo-molecular pumps and cryo pumps can also support large volume, high altitude testing and research experiments for example in simulating space where multiple dry-compression pump stages are required to achieve ultra-high vacuum levels and no chance for hydrocarbon contamination is desirable.
Please contact us for a review of your particular vacuum application and to learn more about the new DRYVAC line of vacuum pumps and systems. For more details on DRYVAC visit www.leyboldchampion.com .
For more information, contact Mario Vitale at 724-325-6565 or e-mail mario.vitale@oerlikon.com
You have successfully added from to your part list.
---