Product Announcement from Oerlikon Leybold Vacuum USA Inc.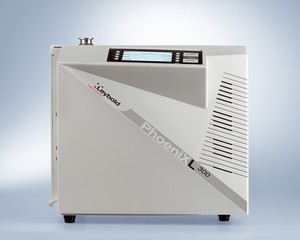 PhoeniXL 300 – The New Helium Leak Detector from Leybold Vacuum
With the new PhoeniXL 300, Leybold Vacuum offers a mobile helium leak detector which is equally well suited for use in series-production testing and in service. The PhoeniXL is qualified for many applications in industry and research, for example system manufacturing, furnace / metallurgy, refrigeration and air conditioning manufacturing, chemicals industry and analytical requirements. Depending on the requirements, three models are available. PhoeniXL with an oil-free gas-inlet system allows the use in clean-room conditions such as those in the semiconductor industry. The three models provide the possibility to install bigger fore-vacuum pumps for faster evacuation. With the sniffer line available as an accessory, the PhoeniXL can also be used as a sniffer leak detector.
Product Features / Specifications
- Lowest detectable leak rate for helium is < 5 x 10 –12 mbar liters / second
- Ready for operation in < 3 minutes after start-up
- Helium pumping speed is 2.5 liter / second
- Counter flow design principle extends the service life for cathodes
- Normal operation at 15 mbar vacuum inlet pressure
- Compact, ergonomic and environmentally friendly design
- Ability to detect hydrogen in addition to helium
- Leybold's exclusive 36 - month warranty for the ion source
The PhoeniXL 300 is easy to handle offering reliable measurement results, quick readiness for operation, fast response time and automatic calibration. The available LCD Display shows a trend mode, bar mode, universal display, vacuum diagrams and status information. The Helium leak detector has a striking, ergonomic and compact design. The arrangement of the design elements makes the PhoeniXL maintenance-friendly, while the logical separation of its mechanical and electrical components enhances accessibility. All parts can be removed and replaced with effortless ease. The integrated remote control is equally well suited for both right- and left-handers.
For more information contact: Mike Ridenour at Leybold Vacuum USA - Phone: 724-325-6593 Fax: 724-733-2550 mike.ridenour@leybold.com
You have successfully added from to your part list.
---