Product Announcement from Oerlikon Leybold Vacuum USA Inc.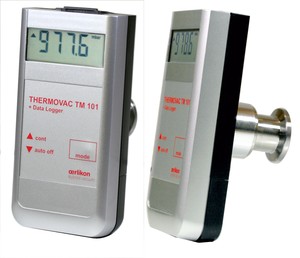 The new digital THERMOVAC TM101 vacuum gauge from Oerlikon Leybold Vacuum offers a new method of directly measuring the vacuum pressure in the vacuum chamber. The measurement data is acquired through the hand set TM101 and can be processed further using software. The THERMOVAC TM101 hand set permits vacuum measurements spanning seven decades (1,200 to 5x10-4 mbar).
Moreover, the TM101 offers the possibility of an adjustable gas correction factor, a minimum and maximum memory function and pressure measurements independent of the type of gas above 15 mbar. The data logging function is capable of transferring 2000 measurement records from the internal memory via the USB interface to a PC.
The VacuGraph software specifically developed for the TM101 archives and visualizes the pressure function. The measurement data can subsequently be exported by way of an ASCII file to Microsoft Excel, for example.
Modern enterprises use the TM101 for leak checks as well as to ensure operation and for quality assurance of vacuum systems. The rugged, handy TM101 which is insensitive to humidity (IP40) is also ideal for servicing and maintenance tasks.
A practical application example is the utilization of this unit in vacuum packaging in the food processing industry. The TM101 may be affixed to the package with or without the foodstuff. When evacuating the air inside the package, the TM101 automatically starts to record the pressure. The measurement data is then indicated on the display or optionally only the minimum and maximum values are indicated. The up to 2,000 measurement records may then subsequently be visualised and processed further through the VacuGraph software. Thus, the pressure conditions in a package can be checked for a maximum period of 75 hours and thereafter documented by way of quality assurance records. Deviating pressure values or leaks in the packages can therefore be determined quickly.
The TM101 is also used on coating systems, in the area of chemical process engineering, in refrigeration and air conditioning systems prior to charging and in the manufacture of refilling of bulbs and lamps with pressurized gas.
The TM101 protection case has been designed to safely accommodate the accessories including a wide voltage range power supply unit for long-term measurements, interface cable and the VacuGraph software.
For more information contact:
Mario Vitale, Regional Market Manager
Oerlikon Leybold Vacuum USA
phone 1-800-764-5369
e-mail - mario.vitale@oerlikon.com
You have successfully added from to your part list.
---