UNIVEX PVD Deposition Systems
Product Announcement from Oerlikon Leybold Vacuum USA Inc.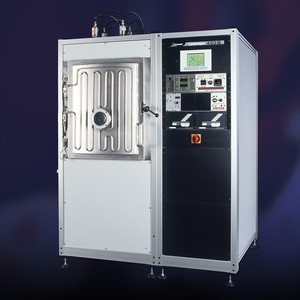 Oerlikon Leybold Vacuum USA manufactures the UNIVEX line of universal experimental PVD vacuum coating systems for use in research & development and pilot production applications. A highly successful and well known PVD deposition system marketed and installed throughout Europe for many years and more recently in the USA.
Available in configurations of varying chamber capacities utilizing bell jars, stainless steel box chambers and cluster tool configurations, UNIVEX is offered with many standard features and options including high vacuum pump systems, power supplies, PLC, a variety of substrate holders, film thickness and vacuum measurement, cooling & heating systems, feed-throughs, view windows and gas admission. Various models of thermal and electron beam evaporators, DC and RF sputtering sources, organic evaporators and load-lock versions are available.
"The UNIVEX family of universal experimental systems is another example of modern vacuum process engineering in an already broad portfolio of turn-key vacuum system solutions offered by Oerlikon Leybold Vacuum", says Brett A. Rock, Regional Marketing Manager at Oerlikon Leybold Vacuum USA. "Our customers can enjoy one-stop shopping for their R&D and pilot production coating systems. They can select from a wide range of standard and multi-purpose configurations based upon their specific requirements plus be assured of support coverage for the entire project from engineering consultation, installation and training to service when selecting UNIVEX."
The UNIVEX Difference
Advantages for UNIVEX Experimentation Coating Systems include:
Adaptable for use in all vacuum PVD coating processes
Modular system design allows easy retrofits and upgrades
Modern vacuum pump systems are adapted to customer specific process
Compact and simple to operate and use
The UNIVEX in Action
The application range UNIVEX covers is vacuum coating in research & development and pilot production - Passive Components, Solar Power and PV Research, Sensor Technology, Optoelectronics, Metallurgical, Soldering, Latent Finger Print Detection (VMD), Glove Box Integration, Thermal Conduction and Special Experiments.
Oerlikon - a leading global high-tech corporation Oerlikon (SWX: OERL) is among the world's most successful industrial high-tech companies focusing on machine and systems engineering. Oerlikon stands for leading industrial solutions and cutting-edge technology in textile production, thin-film solar, thin film coating, propulsion, precision and vacuum technology. As a company with Swiss roots and almost 18,000 employees at 180 locations in 37 countries, Oerlikon has evolved into a global player today with sales amounting to CHF 4.8 billion. The group is ranked first or second in each of its respective markets.
Oerlikon Leybold Vacuum - offers a broad range of advanced vacuum solutions for use in manufacturing and analytical processes, as well as for research purposes. The Segment's core capabilities center on the development of application- and customer-specific systems for the creation of vacuums and extraction of processing gases. Field of application is the semiconductor industry, thin films and data storage, analytical instruments and the classic industrial processes.
For more information, contact:
Brett A. Rock
Oerlikon Leybold Vacuum USA
Phone - 724-493-2654
e-mail - brett.rock@oerlikon.com
You have successfully added from to your part list.
---