WH series Vacuum Boosters
Product Announcement from Oerlikon Leybold Vacuum USA Inc.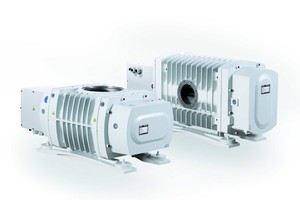 Cologne, Germany - February 2009 - Oerlikon Leybold Vacuum introduces a new line of WH series vacuum boosters for use in large volume pumping such as Industrial Coating, Metallurgy, Solar Cell Manufacturing and other applications.
Oerlikon Leybold Vacuum introduces the RUVAC® WH series vacuum booster, an innovative new product line that meets the increasingly demanding vacuum needs of the Industrial Coating, Metallurgy, Solar and other process industries and applications with stringent requirements for operating pressure, cycle times and system uptime, thus increasing customer benefit. The new WH series includes the RUVAC WH 4400 and WH 7000 models. They use a unique, hermetically sealed motor and integral liquid cooling technology to deliver the industry's smallest, most robust and most energy-efficient package, while also achieving new levels of vacuum performance including the possibility to start the pumps at atmospheric pressure with the optional by-pass-line. "As a specialist in vacuum engineering, Oerlikon Leybold Vacuum continuously focuses on the smallest details of advanced vacuum applications to engineer, configure and produce complete customized vacuum systems for the most demanding and ever-evolving industrial processes,'' said Andreas Widl, CEO of Oerlikon Leybold Vacuum. "Because we've handled thousands of real-world vacuum applications for our customers, we understand where to apply innovation and where to stay with proven technology. Our new motor design and cooling systems lead directly to better performance, reliability, cost and flexibility for solar, processing and other key industries." By eliminating the metal 'can' traditionally used to isolate the motor from the vacuum line, and replacing it with an epoxy-encapsulated enclosure, the RUVAC WH can use a smaller and more-efficient motor that operates at a lower temperature. This approach also reduces energy consumption considerably, eliminates shaft seals and their potential for leaks and provides outstanding performance with corrosive and toxic gases and vapors. Moreover, the WH series sets new standards for compact design, taking up less space than any competing booster unit. Also, contributing to the RUVAC WH's compact footprint is integrated liquid cooling in the gear cover and motor housing, which reduces half the amount of heat radiated into the ambient area — offering additional savings in air conditioning and extending the life of the power train. The new drive design and the advantage of having no shaft seals, offer unique robustness, compared to any traditional design. This new type of pump will set new standards in reliability, even in harsh applications.
The RUVAC WH line is designed and engineered especially for the increasingly demanding vacuum-system requirements of the solar energy industry, metallurgy and furnaces, industrial coating, research and development and space simulation applications. With an optional frequency converter, the WH7000 can operate up to 9.800 m³/h @ 70Hz, while the WH4400 can operate up to 7.040 m³/h @ 80Hz.
About Oerlikon Leybold Vacuum
Cologne, Germany-based Oerlikon Leybold Vacuum GmbH develops a broad range of application- and customer-specific systems for the creation of vacuums and extraction of processing gases. With 150 years of experience as a first-class vacuum supplier, the company's products are known for their superior performance, reliability and quality. Oerlikon Leybold Vacuum has a worldwide network of consultants and sales personnel that provide wide-ranging engineering expertise and are available to help customers select the right products for any application.
About Oerlikon
(SWX: OERL) is one of the world's most successful high-tech industrial groups specializing in machine and plant engineering. The company is a leader in the field of industrial solutions and innovative technologies for textile manufacture, thin-film solar and thin-film coating, drive, precision and vacuum systems. With roots in Switzerland and a long tradition stretching back 100 years, Oerlikon is a global player with a workforce of more than 19,000 at 170 locations in 35 different countries. The company's sales amounted to CHF 5.6 billion and it ranks either first or second in the respective global markets.
For further information on the WH series vacuum boosters and the Oerlikon Leybold Vacuum full line of vacuum pumps and systems, leak detection instruments and many after-market services, please contact:
Mario Vitale
Regional Market Manager
Oerlikon Leybold Vacuum USA
724-325-6565
You have successfully added from to your part list.
---