Efficient. Reliable. Secure. Stepless® Ear Clamps
Product Announcement from Oetiker, Inc.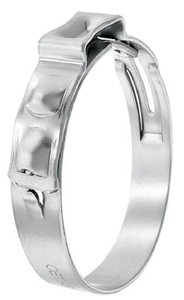 Introducing the NEXT Generation of Stepless® Ear Clamps from Oetiker. This NEW Stepless Ear Clamp is stronger, provides higher radial loads, increased diameter range and features a special safety hook.
This new Stepless® Ear Clamp series is offered in stainless steel, as well as high strength steel material. With its unique, precise tongue-in-groove design, it provides a 360° uniform sealing compression, which is not dependent on the hose to fill in any steps or gaps that can usually be found on the inside of commonly available clamps.
The 360° design of the Stepless® Ear Clamp (PG 123/193) also ensures uniform radial loads and results in a much stronger clamp and has a higher holding performance of any other Oetiker clamp. It is effective on both extremely soft and hard durometer hose materials.
The Stepless® Ear Clamp features an increased diameter range, allowing for easier assembly and installation. In this Next Generation clamp, a security hook has been added so there is no risk of an unintended opening; the clamp cannot be opened during transport and handling.
The Next Generation Stepless® Ear Clamps include many advantages that are crucial for Automotive applications, as well as Industry and Trade.
Unique special advantages:
Minimizes leakage risks with 360° stepless technology featuring the higher radial loads than other ear clamps.
Supports weight reduction efforts through a lightweight, highly corrosion resistant band.
Increases assembly productivity through process reliable assembly equipment.
Promotes quality assurance with a one-piece tamper proof design.
Eliminates the risk of unintended opening due to the unique security hook.
Provides injury free handling due to smoothly rounded and deburred band edges.
Improves the assembly process due to the large diameter ranges which allow the clamp to be easily assembled over the application.
Product Features:
New closed interlock design
Teardrop
Tongue piece with radial guide
Enlarged ear width
Innovative ear dimple
Security hook
The Next Generation Stepless® Ear Clamps are available in both standard and heavy duty series, with diameter graduations of 0.5 mm. Please visit the Oetiker site to see all available sizes.
Material:
123 High strength steel, material no. 1.0934, coating: zinc-plated, galfan optional
193 Stainless Steel, material no. 1.4301/UNS S30400
Be sure to contact Oetiker today to discuss solutions for your specific clamping application needs!
---