Quick and Easy Installation, Robust 2-Ear Clamps
Product Announcement from Oetiker, Inc.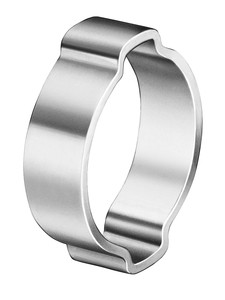 Oetiker 2-Ear Clamps have a robust one-piece construction for good, permanent sealing. This is a medium pressure clamp and is widely used for maintenance (repair and service purposes) and OEM (Original Equipment Manufacturing) applications. They are especially suited for industrial use and with heavily vibrating equipment. With this type of clamp, rubber hoses, plastic tubing, electrical cables, welding hoses and other materials can be securely fastened.
Oetiker 2-Ear clamps: the ears of these clamps do not have a dimple and nearly double the clamping range, compared to the 1-Ear clamp. 2 ears provide a degree of elasticity to accommodate changes in size of the parts being joined, such as that which may be caused by thermal expansion or vibration.
This Hans Oetiker design was the first of its kind when it came onto the market in 1951 and since then, it has revolutionized connection technology throughout the world. To this day, it has remained a best seller.
Other Features:
Compact one-piece clamp: for robust, secure connections
Clamp ear: fast and simple installation, visible deformation provides evidence of proper closure
Deburred edges: reduced risk of damage to parts being clamped
2-Ear Design: increased clamping range
Material:
101 Zinc-plated Steel, Material no. 1.0338 / SAE 1008/1010
151 Stainless Steel, Material no. 1.4301 / UNS S30400
Size range:
A narrow version of this 2-Ear clamp is available on request.
Contact us today to discuss solutions for your specific hose clamping needs!
---