Product Announcement from Oil-Rite Corp.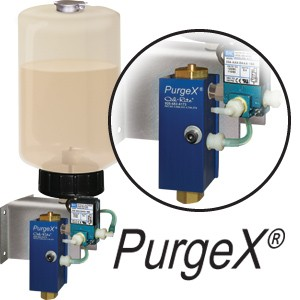 Lubrication System for CNC Machinery
Most CNC machines come equipped with a lubrication system of some sort for these internal mechanisms. Users sometimes report problems with lines clogging, entrapped air, faulty pressure switches, maintaining reservoir pressure, and making basic adjustments.
Discussions with industry experts led to the idea that more could be done to improve lubrication for new machinery as well as upgrade lubrication for CNCs that are already in service. Oil-Rite Corporation addressed the challenge with a design that is both pragmatic and affordable.
Lubrication equipment should be tailored to the particular application and take into consideration basic specifications including type of fluid, pressure, and temperature. Other factors may also be important to selecting the proper equipment: integration with existing machinery, minimized impact on the environment, cost-saving features, ease of installation, or sheer simplicity of design. The products on this page are examples of lubrication equipment that are meeting the challenges within industry today.
Oil-Rite lubrication equipment is instrumental in maintaining machinery and monitoring fluid flow across a wide expanse of industries. Oil-Rite equipment applications include:
apply lubricant to chains and conveyors in high-speed canning facilities
automatically replace oil in large bearings in nuclear facilities
dispense grease during assembly processes
lubricate car crushing machines in recycling operations
monitor hydraulic fluid levels in off-road equipment
and circulate oil to turbine bearings in wastewater plants
Oil-Rite product is developed by an in-house design team and manufactured in the United States for use in North America and throughout the world.
PurgeX Circulating Oil Systems
PurgeX Circulating Oil Systems are easy to use, reliable and compact. They provide the means for dripping oil over gears, bearings, crankshafts, etc, with the intent of collecting and re-using the fluid. These units are ideal for small volume applications where excessive heat build-up is not a concern. They can be used with bearings, motors, fans, rolling mills, presses, pumps, compressors, gears, generators and a variety of other applications.
PurgeX Circulating Oil Systems are operated with 1 to 4 motor driven PurgeX pumps. The pumps cycle small, precise amounts of lubricant at frequent intervals. The fluid is recovered by means of gravity and is subject to passive heat loss as it circulates back to the reservoir.
A clear and durable 1 gallon acrylic reservoir collects and circulates fluid. The hinge lid cap makes filling the reservoir quick and simple. A 40 micron filter removes impurities from the fluid before it cycles to the lube point. The filter is easily accessible for cleaning or replacement.
PurgeX Circulating Oil Systems are easy to install; simply route tubing to the lube point and back to the reservoir's return. Activate the mini circulating oil system with a standard power supply.
For more information, browse PurgeX Circulating Oil Systems in our clear and detailed online product catalog.
Oil-Rite Designer and Manufacturer of Lubrication Equipment Since 1933
Oil-Rite Corporation is known throughout the world for its high standard of manufacturing and innovative design in lubrication equipment. Founded in 1933 by Frank J. Lyden, the original product line consisted of constant level oilers used in conjunction with large bearings and gear boxes. The range of product expanded rapidly in the following decades to include not only lubricators, but liquid level and flow monitoring equipment. Oil-Rite manufactures 90 percent of components using its in-house work centers. Engineering and R&D are singularly dedicated to this industry, improvement in product and processes, and the next innovation in lubrication equipment.
Donald G. Gruett became owner and president of Oil-Rite in 1984. He held various positions with the company since 1962 and was pivotal in developing PurgeX in 1988. Donald Gruett assumed the position of Chairman of the Board in 1994 and appointed Carolyn M. Boldt to President, who has held various positions with the company since 1973. Oil-Rite has a 75,000 square foot facility and operates two shifts with 60 employees. Operations have been located in Manitowoc Wisconsin since 1951, when the company outgrew its original Milwaukee location.
Oil Rite serves the following industries:
Industrial and Commercial Machinery - Conveyors, Assembly Equipment, Ovens, Etc.
Energy - Electric, Gas, and Nuclear Facilities and Transport Stations
Food and Beverage Preparation and Packaging
Off-Road Equipment - Construction, Agriculture, and Forestry
Aerospace and Defense
Material Handling, Automation, and Robotics
Mining, Steel Mills, Material Processing, and Recycling Operations
You have successfully added from to your part list.
---