Product Announcement from Oil-Rite Corp.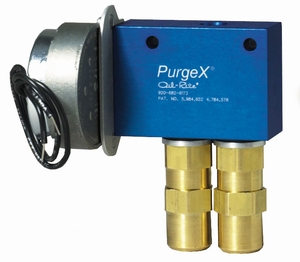 The industry standard for dispensing oil and grease has always been somewhat inexact. Lubricants were viewed as plentiful and lubrication tended to error on the side of more is better. Today, we know that excessive lubricant is not only potentially harmful to machinery, it also presents safety and environmental issues.
PurgeX® provides precise, repeatable control. Rather than relying on a needle valve or intermittent flow triggered by a solenoid, PurgeX® cycles fluid in and out of an internal chamber. The amount is the same every time and is dispensed as needed. The internal chamber seals after each cycle assuring that there is no residual flow or afterdrip.
Motorized PurgeX® dispenses an adjustable amount of fluid with each cycle up to .009 cubic inches (.005 ounces). PurgeX® creates a suction at the fluid inlet, making it able to draw fluid from above or below the pump. This means only a simple vented reservoir is required and the pump will self prime. When used with grease, some amount of pressure is required at the inlet. PurgeX® is available with an attached spring loaded reservoir for grease applications.
PurgeX® was invented by Oil-Rite for use with lubricants, but has been put to use dispensing other industrial fluids in production lines. The motorized version is particularly well suited to systems that are largely unmonitored or must be compact and mobile.
You have successfully added from to your part list.
---