Handheld 45MG Ultrasonic Thickness Gage
Product Announcement from Olympus Corporation of the Americas - Scientific Solutions Group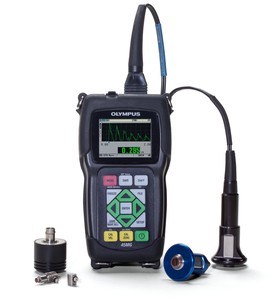 Olympus NDT, a world leader in nondestructive testing technologies, is pleased to introduce the handheld 45MG ultrasonic thickness gage—an advanced small-sized thickness gage packed with measurement features and software options.
This unique instrument is compatible with the complete range of Olympus dual element and single element transducers, making this innovative instrument an all-in-one solution for virtually every thickness gage application. Applications range from wall-thinning measurements of internally corroded pipes using dual element probes to very precise thickness measurements of thin materials using single element transducers. Ultrasonic thickness measurements are accurate, reliable, and repeatable. Instant readings can be achieved from one side of a material, making destruction of the part unnecessary.
The 45MG boasts powerful standard thickness measurement features and specialized software options. For corrosion detection applications, the gage offers optional Thru-Coat® and Echo-to-Echo technology for measuring thickness with no need to remove paint and coatings, and time-based B-scan, which converts live thickness readings into cross-sectional drawings.
When used with the code-activated single element transducer option, the 45MG is capable of making accurate thickness measurements on many materials, including metals, plastics, composites, glass, and ceramics. This feature allows for very precise measurements with a resolution of 0.0001 in. or 0.001 mm.
The optional single element High Penetration feature enables the gage to take measurements on very thick or highly attenuating materials, such as cast metals, rubber, and fiberglass.
The Olympus 45MG is built for use in a wide range of weather conditions and difficult inspection environments. Its sealed case is designed to meet IP67 requirements in order to withstand the rigors of very wet or dusty environments. The transflective color LCD with QVGA resolution provides superior readability from bright sunlight to complete darkness. The 45MG features a simple keypad that can be operated with either the left or right hand for easy access to all important gage functions.
The 45MG is designed for use with all single and dual element thickness gage transducers, and offers standard features such as sound velocity readings, Time-of-Flight readings, Differential Mode, and Reduction Rate Mode.
The optional data logger for the 45MG provides internal storage capacity of inspection data equivalent to more than 475,000 thickness readings, or 20,000 waveforms in various file formats, while the MicroSD card slot provides additional storage. The GageView Interface Program allows for data transfer with the standard USB cable.
Visit Olympus IMS for more product details and download the product brochure.
---