Olympus Micro-Imaging OEM Components
Product Announcement from Olympus Corporation of the Americas - Scientific Solutions Group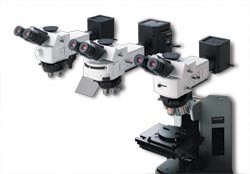 Is finding the right lens or illuminator for your imaging system design an issue? The complex tool designer is constantly challenged with finding a source for discrete lenses and illuminators - even when a source is found, it is often difficult to find flexible, versatile modular systems such as the Olympus BXFM to couple complex lens elements together.
Many times engineers need a turnkey solution that enables them to remotely control a high magnification and high reposition imaging system from across the room or within a hostile environment. The Olympus OEM program is designed to provide easily integrated solutions to add the desired capability and functionality with minimal difficulty. In addition to the unique requirements of high magnification optics, Olympus also offers easy solutions to low magnification challenges, such as mounting one of our wide range of stereo microscopes onto larger tools to provide a view of processes such as wire bonding.
At the heart of the Olympus OEM program is total engineering support. The Olympus OEM team is comprised of engineers and applications staff from around the world, based locally and at the central Research and Development Headquarters in Tokyo. The OEM team has provided designs and support for everything from simple lenses to performance data to complete custom optical systems.
---