Ultrasonic Detector with Phased Array Imaging
Product Announcement from Olympus Corporation of the Americas - Scientific Solutions Group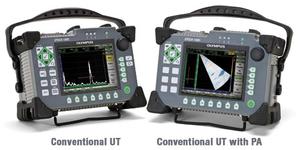 The EPOCH 1000 Series Digital Ultrasonic Flaw Detectors combines the highest level of performance for conventional portable flaw detection with the power of phased array imaging. The EPOCH 1000, 1000iR and 1000i feature a new horizontal case style with full VGA display, knob and navigation arrows for parameter adjustment, and full EN12668?1 compliance. The advanced conventional ultrasonic functionality of the EPOCH 1000 series is augmented in the EPOCH 1000i with phased array imaging capabilities.
Key Features:
Available with Phased Array Imaging Package
EN12668-1 compliant
Over 30 digital receiver filter selections
6 kHz pulse repetition rate for high speed scanning
Automatic phased array probe recognition
Intuitive wedge delay and sensitivity calibration for all focal laws
Programmable analog/alarm outputs
IP66 environmental rating for harsh environments
Horizontal design with navigation panel and knob parameter adjustment
Digital high dynamic range receiver
Full VGA sunlight readable display
ClearWave™ Visual Enhancement Package for conventional A-scan interpretation
Reference and measurement cursors
Standard dynamic DAC/TVG
Standard onboard DGS/AVG
Advanced Ultrasound, Upgradable to Phased Array
The EPOCH 1000, EPOCH 1000iR, and EPOCH 1000i provide advanced conventional ultrasound capabilities for both the standard and advanced level inspector. These portable instruments can also be integrated into small systems for high speed scanning and single channel imaging. They come standard with a host of high performance features, including a 6 kHz maximum Pulse Rate Frequency (PRF) with single-shot measurements for accurate high speed scanning applications, tunable square wave pulser with PerfectSquare™ technology, and comprehensive digital filter sets for exceptional signal-to-noise clarity.
Rugged. Portable. Meets the Demands of the Toughest Inspection Environments!
The EPOCH 1000 Series is designed to meet the IP66 environmental rating. Tested for shock, vibration, explosive atmosphere, and wide temperature range, these instruments can withstand operation in harsh inspection conditions. Some of the EPOCH 1000 Series' other key physical features include:
Large, full VGA (640x480) resolution color transflective display for optimum viewing in low or bright lighting conditions
Rugged rubber handle for easy carrying
Durable instrument-mounted D-rings for chest harness use
Front and rear stands for table-top or steep inclined viewing
USB Client and Host ports for PC communication, direct printing and communication with peripheral devices
VGA output for presentations, training, and remote instrument monitoring
Programmable analog outputs, alarm outputs, and RS-232 communication
Standard internal, rechargeable lithium ion battery
About Olympus NDT:
Olympus is a world-leading manufacturer of innovative testing instruments that are used in industrial and research applications ranging from aerospace, power generation, petrochemical, civil infrastructure and automotive to consumer products. Olympus instruments contribute to the quality of products and add to the safety of infrastructure and facilities.
Our leading edge technologies include remote visual inspection, high speed video, ultrasound, ultrasound phased array, eddy current, and eddy current array.
Please click on the links to the right for more information or request a quote today!
---