STM6 & STM6-LM-Measuring Microscopes
Product Announcement from Olympus Corporation of the Americas - Scientific Solutions Group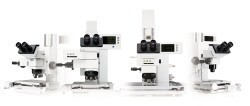 The STM6 series microscopes offer excellent versatility and high performance three axis measurement of parts and electrical components, with sub-micron precision. UIS infinity corrected optics ensure the highest image quality making the STM a powerful imaging tool in its own right.
1. Design ideas to reduce fatigue even in long-time operations
Motorized focusing for quick and precise Z-axis measurement
Olympus' introduction of motorized focusing to this category of measurement microscopes drastically improves operability in both focusing and the measuring of height and depth.
High advanced optics for edge detection and microscopic inspection
Clear edge detection, which is indispensable for accurate measuring, is ensured by the superb resolution and high contrast of advanced UIS2 (Universal Infinity System) optics. This results in greatly improved both measurement and microscopic inspection.
2. A versatile lineup of add-on motorized units that allow selection of necessary functions and bring dramatic improvements to measurement efficiency.
For high magnification measurement and Nomarski DIC observation
Three different types of reflected light illumination units are available for both STM6-LM and STM6, to meet the full range of users' measurement requirements. Corresponding to measuring objectives or metallurgical objectives using the revolving nosepiece, these enable brightfield, darkfield and Nomarski DIC observations.
---