Product Announcement from Oren Elliott Products, Inc.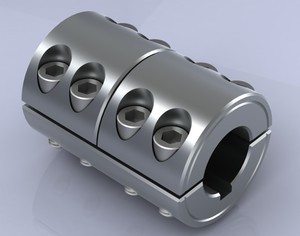 Rigid shaft couplings are generally used when there is little or no shaft misalignment, and any misalignment resulting from thermal growth during operation will result in small enough reactive forces that the support bearings won't be adversely affected.
Rigid couplings are simple, robust, and economical, and their torque is limited only by the clamping force between coupling and shaft. They have low moment of inertia, and the two shafts maintain constant angular position.
Typical applications include devices with enough internal clearances or flexible members (flexible shafts, spring washers, etc.) to accommodate any incidental shaft misalignment without a flexible coupling; consumer products and material handling equipment are two examples.
OEP Couplings' type RS (set screw), type RC (one-piece clamping), and type RT (three-piece clamping) rigid couplings are all machined from bar on state-of-the-art CNC machining centers with live tooling. As a result, very close tolerances can be held; this is a critical and all-too-often overlooked factor in rigid couplings. If, for example, the two bores are out of alignment with each other, the impact on other components within the assembly can be catastrophic. OEP's rigid shaft couplings are machined from high-strength alloys like 7075 aluminum and 17-4 stainless steel.
Material options for the hubs include anodized alloy 7075 aluminum, 17-4 stainless steel, nickel-plated alloy 4140 steel, nickel-plated brass, and Ultem© (offering electrical insulation). Shaft attachment options include set screw with and without keyway, and clamping with and without keyway; bore options include both plain and keyed bores.
You have successfully added from to your part list.
---