Product Announcement from Oren Elliott Products, Inc.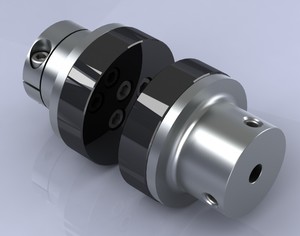 While magnetic couplings do accommodate some radial, angular, and axial shaft misalignment, their primary purpose is rather to transmit rotary motion across a barrier. A magnetic coupling consists of two banks of magnets with alternating polarity; the two banks engage each other magnetically and resist slipping, with a force inversely related to the gap between the banks.
By placing one bank on each side of a nonmagnetic, thin, flat sheet, it is possible to create a hermetically sealed rotary feedthrough. The coupling will also serve as a slip-clutch, as it slips to the next position 90 degrees out-of-phase under overload; and there is no contact, so there is no wear.
The OEP type MXC coupling actually includes 3 variations--MSC, MMC, and MLC, which vary from one another only in their hub diameter and in their ranges of bore diameter. The type MXC is a very low-torque magnetic coupling, however, so applications are limited by the torque.
Material option for the hubs is anodized aluminum. Shaft attachment options include set screws and clamping mechanism.
Magnetic Couplings Advantages
Can be used to couple across a thin barrier, making a perfectly hermetically sealed rotary feedthrough
No contact, so no wear
Serves as a wear-free slip clutch - under overload, the magnetic coupling simply slips to the next position. In the MXC OEP magnetic couplings, this slip is exactly 90 degrees.
You have successfully added from to your part list.
---