Linear Brake for Linear Drive
Product Announcement from Orttech, Inc.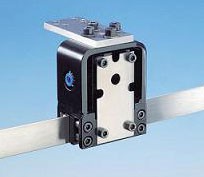 Ortlinghaus linear brake
The Ortlinghaus linear brakes are suitable for use as holding and braking systems for various types of linear drives e.g. linear motors.
Application
The Ortlinghaus linear brake system holds the position that has been reached securely and without backlash. To increase the security still further or, as the case may be, to comply with the recommendations of the employer's liability insurance association in respect of vertical axes, the system can be executed in a redundant manner in a simple manner. The brake is spring-applied and electromagnetically released. Accordingly in the case of a power failure or an interruption to the power supply, the braking system becomes immediately effective. The brake is designed in such a way that braking can be carried out dynamically in such cases.
Advantages of the Ortlinghaus linear brake
The linear system is also reliable in the case of a power failure. Thus, for example, accidents to persons from loads falling can be avoided.
The braking force acts where it is required so that braking is also carried out reliably even with angled or vertical axes which are not driven directly, e.g. in the case that a spindle nut fractures or a belt is damaged.
The modular system offers a high degree of flexibility permitting matching to different applications with just a few components.
Logistical optimization since only a few parts have to be procured, administered, stored and kept as spare parts over extended periods - and this regardless of the rail profile.
You have successfully added from to your part list.
---