Pneumatic Clutches and Brakes
Product Announcement from Orttech, Inc.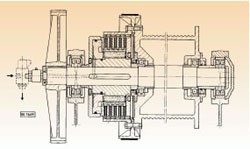 The series 0-406 offers the optimum in terms of maximum clutch and brake torques with the smallest of dimensions, i.e. high performance compact design. The highly successful forerunner to the 0-406 series, the 0-400 is still available today for replacement requirements; in the case of new designs, however, the 0-406 and 0-420 series should be used. These combined units represent the optimum drive component in stamping and forming presses and offer excellent adaptability in the following areas:
12-point suspension of the friction plates or two-point suspension with lugs of the same or different lengths, giving flexibility for different applications
Friction element selection, based on shape and material, to obtain the most effective service life with quiet operation under all conditions. The friction block version is to be recommended for machines with either high dynamic loading or load reversals under continuous operation
Securing to the shaft or crank shaft can be with the aid of either keys or locking assemblies, these being fitted on the clutch side with series 0-420 and on the brake side with series 0-406
Friction combination: Cast iron/organic friction lining or cast iron/friction block of organic friction material.
Air intake: Via rotary inlet through the shaft.
Application: On stamping and forming presses, on deepdrawing presses, embossing presses and similar machines.
Multi-plate pneumatic clutch / brake combined units for wet-running
You have successfully added from to your part list.
---