TNT
Product Announcement from OTEK Corporation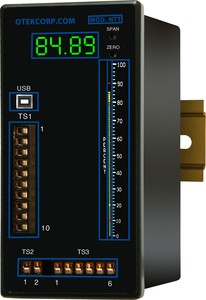 Otek's new TNT series is the result of years of engineering R & D by our suppliers (nanotechnology, ASICS, ultra high effi ciency LEDs) and our entrepreneurial free society. We have taken the NTM, converted it into a 4-20mA transmitter, added our input signal conditioner "SC" series (>30), our state of the art 16 bit, 4-20mA isolated transmitter, our smart "Fail Input" alarm, opto-isolated or relay output alarms, our patented A.C. signal powered circuit and packaged it in a 1⁄8 DIN industry standard case with a DIN-Rail snap clip or rear cover for panel mount.
The TNT is not only a transmitter, it's also a controller when you order the optional relays (2) or open collector transistors (2) options 1 or 2 on Digit 5. Most 4-20mA transmitters convert the input signal to 4-20mA regardless of its magnitude or integrity. So what happens if the input signal dies or exceeds safety limits? Otek's TNT will: A) Detect the signal failure even after its dead (post mortem), B) fl ash it's display "INPT FAIL," C) transmits the distress message via serial port and D) bring the output to <4-20mA (you can change it to other levels). In addition, if you include control outputs (Digit 5, options 1 & 2), the TNT will control your load.
FEATURES:
*Auto-Tricolor Bar-Meter
*16 Bit DAC/12 Bit ADC
*Serial I/O, USB, RS485
*Ethernet (on request)
*100% I/O Isolation
*Universal Power Input
*Hi & Low Relay/O.C.T.
Alarms For Control
*Only 2" Deep
*Smart/Input Fail Alarm
* A.C. Signal Powered
*Lifetime Warranty (LTD)
You have successfully added from to your part list.

Play TNT Video on YouTube
---