Hard-Mounted Hollow Retroreflector™(HMHR)
Product Announcement from PLX Inc.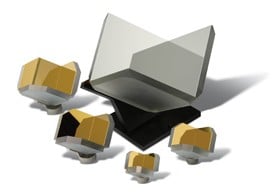 A self-compensating mirror that is totally insensitive to position and movement, such as tilt. Parallel incident light that hits the HMHR will be returned with great accuracy to the light source, regardless of the HMHR's physical orientation.

The HMHR is constructed of three first-surface mirrors assembled by a proprietary process into a mutually-orthogonal inside corner. The mirrors can be coated for maximization over a spectral range, from UV to far IR. This configuration eliminates material absorption and achromatic aberration. The mirror assembly of the HMHR is mounted on an Invar mount (5.0"/127mm unit comes with aluminum mount). Invar is a low-expansion (CTE 0.75) alloy of iron and nickel that is used when control of thermally-induced dimensional change is required.
For critical applications, such as Michelson interferometers.

Meets super critical applications that withstand military and harsh space environments.
---