Laser Tracking
Product Announcement from PLX Inc.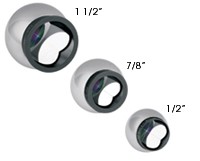 PLX BMRs are used as targets for laser trackers. These instruments measure distances and coordinates to a very high degree of precision. As a single surface invariant reflector, the BMRs provide great accuracy, together with a constant optical path difference. This is especially important because it allows accurate distance measurement without the need to account for refraction, a common problem when using solid, prism type retroreflectors.
PLX produces BMRs for all major laser tracking manufacturers' systems.
PLX BMRs can significantly improve the performance of all laser tracking systems. They are manufactured in three different diameters: 1 1/2", 7/8" and 1/2". Should the optical elements of your BMR ever become damaged, PLX can replace them with units of comparable accuracy and alignment to the original at a modest cost. PLX unconditionally guarantees their BMRs to provide superior performance and compatibility with laser tracking systems from all manufacturers - or your money back.
---