GAGEpack - Gage Management Software
Product Announcement from PQ Systems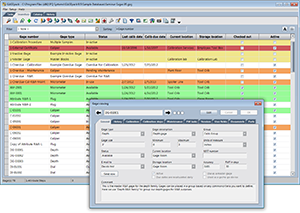 GAGEpack-the original gage management software for tracking gage calibration
GAGEpack is powerful gage calibration software that will save you time while increasing the accuracy of your gage management and measurement systems analysis. It allows you to maintain a complete history of your measurement devices, instruments, and gages. To ensure timely calibration, the software provides a variety of tools, such as:
Calibration schedules and reports
Alerts about failed and past due calibrations
Gage location and status tracking
Gage repair records
Audit trail for traceability
Software for gage R&R studies
To help you identify sources of measurement variation, GAGEpack provides a complete statistical and graphical analysis of your measurement system. It performs both variable and attribute gage repeatability and reproducibility (R&R) studies, calculates the uncertainty of your calibrations, and produces accuracy and stability charts. GAGEpack's gage R and R studies include a variety of reports and charts including linearity, ANOVA, control charts, gage error histograms, and appraiser bias to help you maintain gage standards and calibration compliance.
Comply with AIAG and other gage calibration standards
GAGEpack follows the recommendations specified in AIAG's fourth edition of the Measurement Systems Analysis manual and helps your organization conform to ISO/TS 16949-2009, ISO 9000 section 4.11, FDA 21 CFR11.1, and other critical gage calibration standards.
Easy gage tracking
For nearly 30 years, PQ Systems has never stopped improving GAGEpack based on our customers' feedback. With our proven experience, you can be assured that GAGEpack is the easiest gage management software available. If you have been using a manual system or another program to manage your gage calibrations, you will appreciate the flexibility and simplicity of GAGEpack, the original gage calibration software.
Other database options
A SQL Server version is available. Learn more about GAGEpack Enterprise.
Offered in variety of languages
GAGEpack is available in the following languages:
English
German
Italian
Spanish
French
>> To learn more about GAGEpack's gage management capabilities,
attend a free web demo.
You have successfully added from to your part list.
---