PR electronics 9000 series - I.S. Interfaces
Product Announcement from PR electronics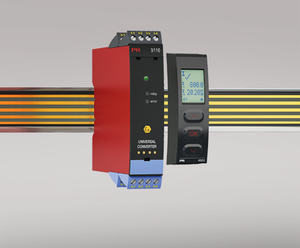 PR electronics pioneered compliance with IEC 61508 and, with our comprehensive range of power-rail mounted analog and digital I.S. interfaces; you will easily comply with IEC 61511 site standards. Our strong expertise with functional safety and agile design process gives us a strategic advantage when designing for SIL 2 requirements. Many of our intrinsically safe SIL 2 units are multifunctional, allowing a few units to be used in a wide range of applications, and all of our modules can be installed in the safe area or in zone 2 / div. 2.
Widest Range with Fewest Variants
The PR 9000 series offers you the widest range of multifunctional I.S. interfaces with fewest variants. Each product is easy to use and service, and naturally fully SIL compliant. This makes them ideal in more critical industries such as chemical, oil and gas, pharmaceutical and energy. They are intuitively easy to configure using the detachable communication interfaces and can be installed on a standard DIN rail, a Power rail or by using backplane solutions.
Fully IEC 61508 certified and implementable within SIL 2 and SIL 3 functional safety loops.
Interfacing and handling AI, AO, DI, & DO signals coming from or going to hazardous I.S. areas.
Multifunctional I.S. barriers, isolators and converters.
I.S. devices for industrial signal conditioning and process control.
Analog, digital and HART® signals.
Backplane solution
For larger installations, the PR backplane greatly simplifies installation and wiring while integrating seamlessly with standard DCS systems. The unique design offers an easy snap on/off feature for device replacement and the 8, 16 or 32 device backplane provides high channel density.
More information at prelectronics.com.
---