Conviently Stored Bins That Expand Rapidly
Product Announcement from Packaging and Crating Technologies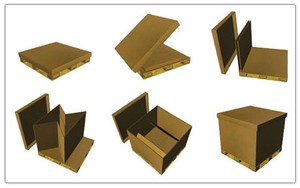 Light Duty BulkBin Solutions
QuickPac™ offers you conviently stored bins that expand rapidly when needed.
Patented durable light weight cushioning pallet design
Easy Setup and Usage
Easily stored compact unit
Side-walls attached to pallet allows for quick set-up
Labor saving
Custom sizes
Re-usable, Recyclable, Export compliant
WoodFree Crating is revolutionizing the industrial packaging world with the Quick-Pak and J-Crate.
WoodFree Crating products provide a needed wood-alternative that is economical, light-weight, and recyclable.
WoodFree Crating is satisfying the market's need for an easily stored / quick set up time alternative to Gaylords, HSCs, and wooden crates.
The WoodFree pallet design provides a cushioned ride for your valued products. This great vibration dampening often can reduce or eliminate the need for internal foam cushioning.
WoodFree Crating products save our customers money in the areas of material costs, reduced labor cost, reduced shipping cost, storage cost, and disposal cost.
Light-weight and durable, WoodFree provides custom requirements up to 4000 pound capacity.
Products:
PACT's mission is to provide cost effective Green and Sustainable packaging products and solutions.
---