Sustainable Crating Solutions 200 Cube
Product Announcement from Packaging and Crating Technologies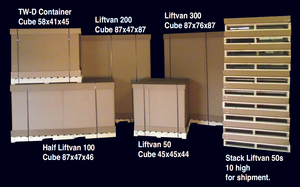 We are Packaging and Crating Technologies LLC. Our J Crate and Cross Coring technology allows us to manufacture crates that exceed the strength of wood while reducing weight.
•The Wood Free crating reduces approximately 50% of the vibration as compared to wood.
•Our crates take only one person to set up for loading in approximately 5 minutes.
•There are no nails or hammering, just strapping.
•Unloading is performed by removing the long strapping and opening the doors at either end. (always keep one set of doors closed at all times)
•Our crates can be easily knocked down for storage.
•Our crates are recyclable.
•4-Way forklift entry
200 Cube Air Freight Crate
87" x 47" x 87" (LxWxH) weighs 165 lbs
Knocked down dimensions are only 87"x47"x10"
Saves 200 pounds versus wood!
2500 lb load capacity
Can ship 8 in a stack or 140 in a full trailer
Crate Stacking Capacity:
Stacks 3 high (Max 2000 Lbs. each)
Sidewalls-Water Resistant 1100 Lbs. Test Triple-wall corrugated
Water resistant adhesive
Walls to be secured with steel strapping only (not included)
WoodFree Crating is revolutionizing the industrial packaging world with the Quick-Pak and J-Crate.
WoodFree Crating products provide a needed wood-alternative that is economical, light-weight, and recyclable.
WoodFree Crating is satisfying the market's need for an easily stored / quick set up time alternative to Gaylords, HSCs, and wooden crates.
The WoodFree pallet design provides a cushioned ride for your valued products. This great vibration dampening often can reduce or eliminate the need for internal foam cushioning.
WoodFree Crating products save our customers money in the areas of material costs, reduced labor cost, reduced shipping cost, storage cost, and disposal cost.
Light-weight and durable, WoodFree provides custom requirements up to 4000 pound capacity.
Other PACT products:
Sustainable Packaging Solutions
Pleatwrap (100% paper-bubble)
PACT's mission is to provide cost effective Green and Sustainable packaging products and solutions.
---