DST600 Digi-Stem® Digital RTD Thermometer
Product Announcement from Palmer Wahl Instrumentation Group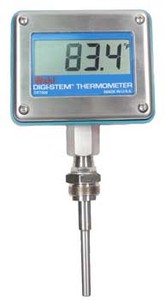 Wahl's NEW! DST600 is a patent-pending, dependable, digital RTD Thermometer System offering new technology designed specifically to meet the FDA rule mandating that a temperature indicating device provides permanent accuracy, no drift over time, and reliability for processors of low-acid canned foods under actual plant operating conditions. It also meets current USDA 9CFR318.300 for canned meat and 9CFR381.300 for canned poultry products.
Rigid and remote probe configurations are available to meet your needs. Remote probe configurations are available with Quick-Disconnect fittings at both the meter and probe connections, allowing the installed cables to remain in place while calibrating the probe and meter. A wide variety of standard probe configurations are available. Contact us to determine the best standard or custom probe for your application.
Calibration software is available, allowing you to adjust sample and update rates and other settings within your facility.
The Wahl DST600 incorporates patent-pending self-checking technology which continuously verifies the accuracy of the electronics, and indicates any out-of-tolerance conditions, assuring that its accuracy and ability to function properly during processing are not compromised. Test temperatures are set at 180°F (82°C) and 250°F (121.1°). Out-of-tolerance conditions will be displayed as an error, and immediately indicate to the operator if accuracy is not maintained, preventing under- or over-processing of product.
---