Hi Temperature and Long Range Infrared from Wahl
Product Announcement from Palmer Wahl Instrumentation Group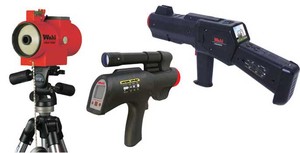 Four new High Temperature hand held infrared models are now available; the DHS1600R and DHS2000R are a two-color infrared designs. The DHS1600R measures temperatures between 1472° and 2912°F (800° and 1600°C), while the DHS2000R measures between 2012° to 3632°F (1100° to 2000°C) With a 150:1 distance to spot ratio, the Wahl DHS1600R & DHS2000R feature MAX temperature functionality and is not affected by smoke, steam, or particulates. The Wahl DHS1900 Extra High Temperature and DHS3000 Ultra High Temperature hand held infrared models have many applications in the Steel and Aluminum industries, as well as various other chemical and high temperature industrial processes where fast and accurate measurements are needed. These models feature RS485 interface and 4-20mA analog signal output through two mini-USB ports. With a 150:1 distance to spot ratio, these models include Hi & Low Alarms, Max, Min, Avg, and Delta-T calculations, as well as adjustable Emissivity for better accuracy.
Wahl's new Long Range Infrared line features the HSA1500 tripod-mount model with highest distance to spot ratio on the market, 1500:1. This super long distance range is perfect for electrical power generation and power transmission applications. Long range rifle and handheld styles are available in distance to spot ratios of 500:1 and 300:1. The 500:1 rifle style HSA500 scans for hot spots, and takes images containing temperature information and date-time stamps to an SD card. The HSA300 handheld infrared model features a telescopic sight for precise aiming to measure temperatures accurately up to 50 feet away.
Contact us for a quote today.
---